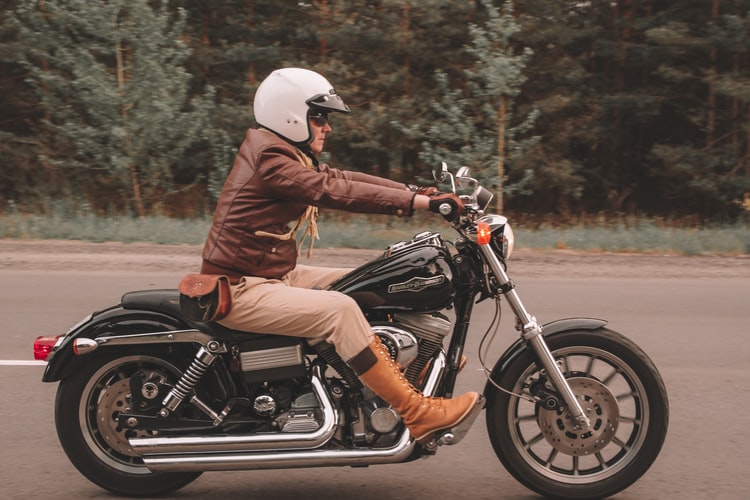 The wind in your face. The thrill of the open road. The sound of your pipes. Back pain flare-ups.
Wait, what?
Admittedly that last item isn't exactly a selling point of motorcycle riding. Yet, many people who ride also experience a past back injury coming back to haunt them as they increase their time on the road. Those long, epic trips can turn into long, painful battles with a stubborn past injury if you're not careful.
However, back pain shouldn't keep you from your passion for motorcycle riding. Learn about what may put you more at risk for back pain with increased riding, and how to take preventative measures to keep your time on the bike fun and enjoyable.
Aches And Pains Exasperated By Motorcycle Riding
It's not uncommon to pick up a few aches and pains over the years. Many times, these seemingly small aches don't garner too much of our attention and may be viewed as more of an occasional nuisance. However, more frequent motorcycle riding has a way of flaring up pre-existing back injuries or uncovering new pains- and the last thing you want is to aggravate your back!
The following conditions may make you more prone to back pain as a result of your motorcycle riding habit. This is not to say don't ride, but rather take precautions.
Pinched Nerves
Typically, pinched nerves are felt in the neck and mid-to lower-back areas, and occur when a nerve is compressed (or "pinched") excessively by the tissue surrounding it, including muscles, tendons, bones and cartilage. Nerves can get pinched from an injury to a surrounding area, and can also occur when there is just too much inflammation in an area of the body.
These compressed areas can be aggravated (read: become more compressed) by long periods of repetitive stress- like a long motorcycle ride on a Saturday afternoon.
Disc Injuries
Your spine does a lot of work for you, such as providing balance, strength, and mobility. And, between each vertebra of this impressive structure lie little shock-absorbers, called discs. When these discs get compressed or even herniated, they tend to press on nerves within the spine and can cause pain and uncomfortable sensations to radiate in your back, and even down your legs.
Similar to a pinched nerve, an injured disc can get aggravated by even further compression, AKA sitting for long periods of time on a bike seat. In other words, if you have a history of disc injuries, longer rides could reactivate your injury and cause pain, unless the necessary precautions are taken.
Tips to Enjoy Pain-Free Motorcycle Riding
You don't need to choose between your time on the open road and pain-free life. And, if you fall in the population of people who have experienced some kind of back pain or injury in the past, you're far from alone- a reported 8 out of 10 people experience back pain at some point in their lives.
Luckily, there are a couple of quick, preventative measures that you can take to mitigate these aches and pains that so often flare up from riding. Of course, if you are concerned about riding with a pre-existing back condition, it's best to consult with a medical professional first. A professional will be able to help you assess what your body can handle without overdoing it.
The following suggestions are great foundational pieces to incorporate into your routine to help yourself enjoy riding as intended- in total pain-free, open-road bliss.
Check And Support Your Posture
When it comes to motorcycle riding, the best posture is a relatively simple one- sitting up straight on your bike with your core engaged. But, we know simple isn't always easy. The culmination of fatigue from more focused concentration, being exposed to outside weather conditions, and just feeling the road, in general, are all going to factor into your weariness (and posture) over the course of a long ride.
This is why working in an occasional posture check can be so beneficial. It's quick, can be done at a stoplight or even while actively riding, and can help keep your riding health and safety prioritized.
Periodically take time to do a quick body scan, checking to make sure that your shoulders are back and down, your back is flat, and your core is lightly engaged. It's not uncommon to find these scans reveal small posture corrections that you weren't even aware of. As you work these scans into your riding routine, holding this posture will become more and more natural.
Additionally, if you're new to riding, try increasing the duration and frequency of your trips gradually, to allow your body time to build endurance for sitting. Even though the act of sitting generally doesn't seem like a "workout," when you need to hold a specific posture for long periods of time, there is certainly a physical endurance component involved.
Lastly, if you find yourself slouching more, standing up at stoplights, or just feeling weary in general, pull over and take a break. These periodic checks can help you sharpen your mental and physical acuity during a ride, and also help you identify when it may be time to call it quits due to cumulative fatigue.
Stretch It Out
Speaking of the occasional rest stop, use these opportunities as a way to move and stretch your body in different directions besides your riding position. When you're on a long ride, your posture is locked into one, forward-facing stance. Even while holding proper posture, if you ride long or often enough, it's inevitable that you're going to get a bit sore.
Incorporating frequent stretching into your routine can help prevent some of this soreness- and it begins before you even get on the bike. Some back, neck, and hip movements can help prepare your system for longer bouts of supported sitting in one stance. Your stretches needn't be complex or lengthy. Rather, keep your stretches relatively basic, focused on movement in varying planes of motion.
Pre-ride stretching suggestions:
For your neck: gently move your head in side to side, forward and back, and slow, circular motions.
For your mid-back, hips, and hamstrings: Stand with feet shoulder-width apart, gently engage your core muscles, and forward bend, while keeping your back straight.
For your back: do a couple of standing spinal twists. Stand with feet shoulder-width apart, place your right hand behind your back, and your left hand on your right hip. Then, gaze over your right shoulder until you feel a light stretch down your back. Hold for a few seconds, and repeat on the opposite side.
While you're on the road, take advantage of every stop to incorporate some of these movements in as well, using fatigue as your guide. If you notice yourself getting tired, pulling off for a rest stop and spending just five minutes doing some of these basic stretches can help refresh your body.
And finally, once you're done riding for the day, return to some of those basic pre-riding stretches once again. These take mere minutes and will help you ease into recovery from the road. Trust us- your body will thank you for it later.
Chiropractic Treatment For Riding Fatigue
Should you find yourself needing additional help recovering from the aches and pains of motorcycle riding, chiropractic treatment is a great, conservative treatment option to consider.
Chiropractic care can provide the relief that your body needs after an extended period of riding. Soreness in one area of the body affects so much more than just that one area- and chiropractic care not only addresses the pain points you may be experiencing from riding but also helps give the rest of your body the attention that it also needs to decrease inflammation, relieves pressure, reduces nerve irritability, and ultimately allow your entire body to relax.
Typically, a chiropractic practitioner uses gentle adjustments of the spine, neck, and extremities to help to realign your body, relieve muscle soreness, and decrease pressure, providing real relief and allowing your system to restore proper function. These adjustments directly address any misalignments in your spine, which can help to both prevent back injuries and promote recovery.
Chiropractic sessions can be preventative, restorative, or a part of your healing journey. If your body is struggling with the wear and tear from the miles you spend on your motorcycle, give your chiropractor a call. Your practitioner will be able to support your specific needs by taking a personalized approach to each session and will meet you at your unique starting point.
Ride more comfortably; schedule your chiropractic session today.
Schedule an appointment online or call(949) 751-4000.
This article is for informational purposes only and is not a substitute for in-person advice or care from a medical professional.