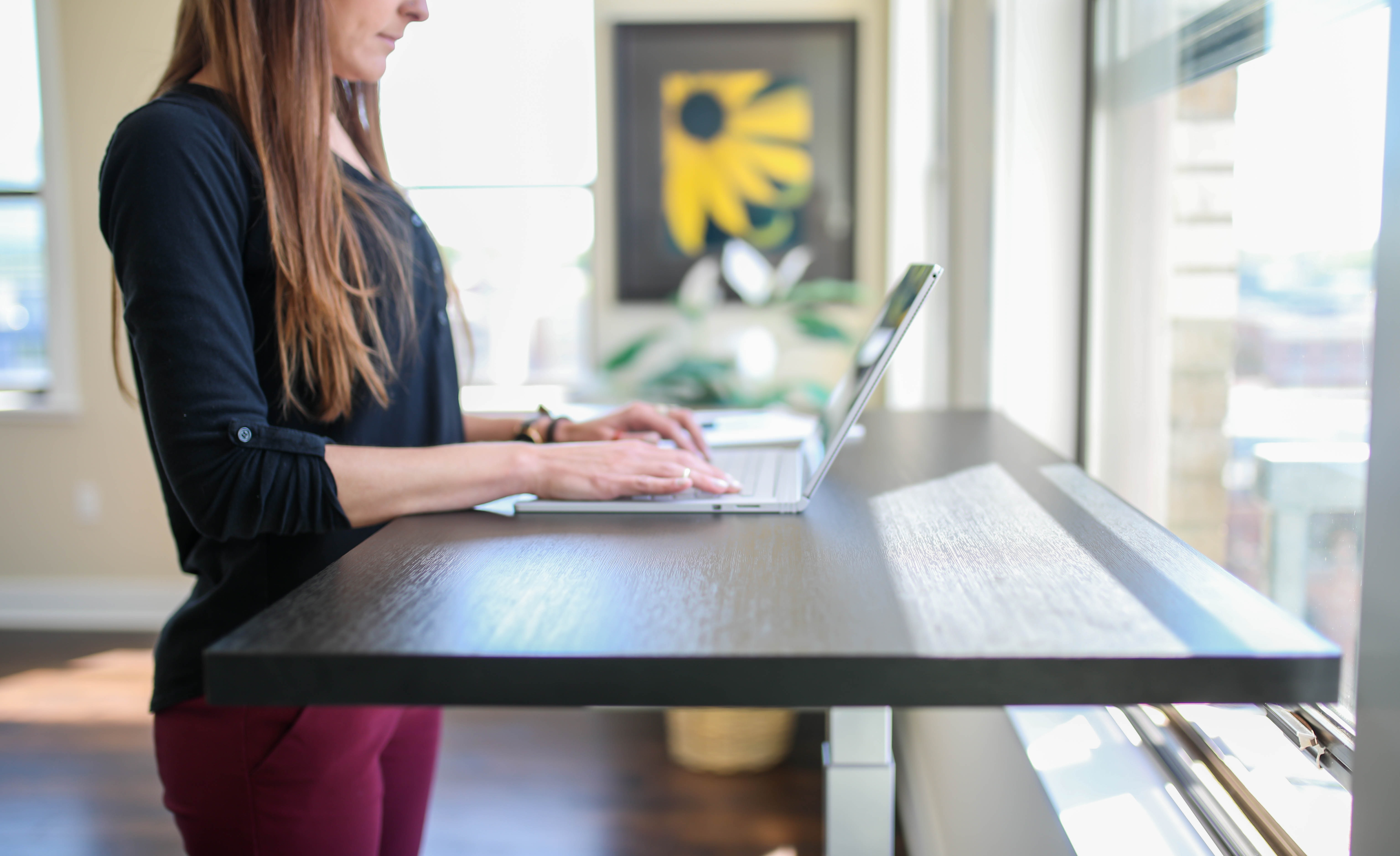 As more and more employees are spending their days at a desk each day, research has shown that there is more danger to sitting all day than we might have thought. As these health hazards have come to light, both employers and employees have joined the growing trend of utilizing standing desks. Are these desks really the solution to avoid back pain and other health issues? There is much more than a simple answer to this question. The American Journal of Epidemiology published a study that showed a correlation between the length of time sitting and an increase of mortality, regardless of outside activity. What does that mean? You can't exercise yourself out of the dangers of sitting at a desk all day. But can't you escape back pain if you are sitting all day? Nope. Studies have shown that sitting actually puts less intradiscal pressure on the spine, but the movement is needed to support the needed flow of fluid in and out of the disc. So, is a standing desk the answer? Possibly, and here are a few reasons why:
Reduce Back Pain – One of the most common health complaints of those who sit at a desk is back pain due to prolonged sitting. Studies on employees with long-term back pain show that 32% of study participants saw an improvement in lower back pain after using a standing desk for a few weeks. Plus, neck and upper back pain was reduced by as much as 54% in just one month!
Better Circulation - Standing up typically allows your spine to be in a healthier position and circulation to be better throughout the body. Why? When we sit our organs become pushed and compressed which makes it difficult for them to function properly.
Improved Energy Levels and Mood - Not only do standing desks seem to work on your back and neck pain, but they appear to have a positive effect on a person's overall well-being. Studies show that standing desks reduce fatigue and stress and improve mood and energy levels. Additional research showed that people who spend too many hours sedentary are at increased risk of anxiety and depression.
Weight Management - Your body burns more calories when standing because your muscles are having to work to keep you upright. These extra burned calories help lower your risk of weight gain and obesity. Standing at your desk can burn around 170 extra calories each day – almost two miles of walking you don't need to do.
Decrease Your Risk of Heart Disease - Walking or standing after meals decreases your risk of blood sugar spikes as well as improves your heart health. Studies have shown that not even one hour of intense exercise can make up for the negative effects of sitting all day.
Use Your Stand Up Desk Correctly When you invest in a standing desk, you invest not only in your productivity, but also your health. When paired with routine chiropractic treatments, a standing desk can help improve and maintain your neck and back health, as well as your overall wellness. However, failure to use your standing desk correctly can result in additional issues rather than positive results. The most important thing to remember when using a standing desk is to switch between standing and sitting. Just like sitting for a long time can hurt your health, so can standing for too long. You will also want to use proper posture because, without this, the consequences of bad posture maybe even more painful than if you'd slouched in your seat all day. Be sure to properly adjust your screen and keyboard and make sure your table is at the right height. If you are just starting out with a standing desk, it is recommended to split your time 50/50 between sitting and standing until your body has become accustomed to it.
If you are looking to help improve your work environment to better your overall health, consider combining chiropractic care and a standing desk. Prioritize your health. Schedule an appointment online or call (949) 751-4000.
This article is for informational purposes only and is not a substitute for in-person advice or care from a medical professional.