If you're wondering if chiropractic care can make a difference in your pregnancy experience, here are a couple recent stories I'd love to share with you.
Looking for a safe, relaxed, natural birth?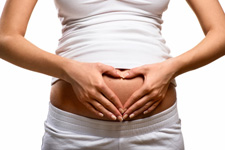 Recently we had an expecting mother come in who was referred by her midwife. She was looking for relief from her back pain and also wanted to have a successful natural birth that went smoothly and quick.
Upon examining her, we found that her pelvis was misaligned. We gently realigned her pelvis so that she could experience a more comfortable birthing process. Once the time was right, she ended up having her child in less than a half hour, without drugs, surgeries or any complications!
Is your child breech? Do you want to avoid a C-section?
Another mom recently came in with her child in breech position, asking for care using the Webster Technique. This technique realigns the pelvis so that your baby will move into the correct and best position for a natural birth.
I cared for her using this incredible technique and within one day, her baby had already moved for her. This allowed her to have a safe and natural birth just like she wanted!
Pregnant? Do you want to learn more about how chiropractic care can help you and your child before, during and after birth? Give me a call so we can talk about the benefits and start your journey to a happy and healthy life for you and your baby. (949) 751-4000