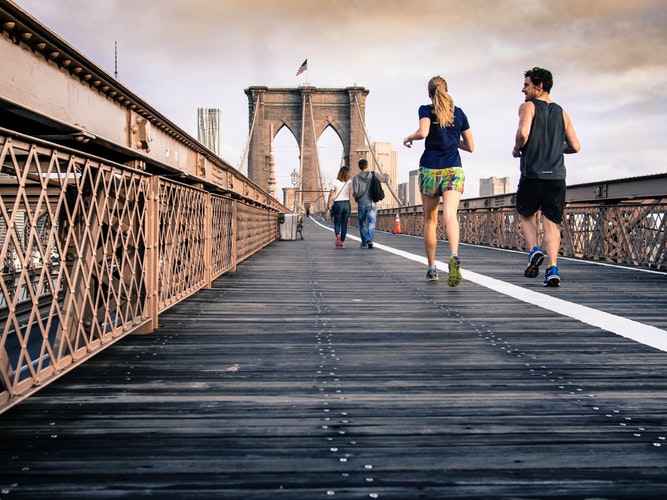 Have you ever thought about making healthy changes to your life, but didn't know where to begin?
Overall "health" can seem like a loaded word. For those of us (read: most of us!) who are looking to take health-first steps forward, it can sometimes feel like there's an oversaturation of information–and misinformation–out there. Fad diets. Carb/no carbs. A plethora of fitness challenges. Can these health fads actually cause more harm than good?
As they say: health is wealth. This saying could not ring more true, especially as the cost of healthcare continues to climb. So, in the spirit of Medical Fitness Week, we're breaking down some tried-and-true changes you can implement to make to your everyday lifestyle healthier. No fads, just real, health-forward and simple steps that almost anyone can take. We promise. Let's dive in.
First Off: Get Moving!
This may sound incredibly simple, but our bodies were made to move. Many people know this, but putting it in to action in our current world can feel more daunting than it should. In fact, sedentary jobs have increased by 83 percent since 1950, according to the American Heart Association. With the amount of time we all spend at work, it's no surprise that many people are having trouble getting their activity levels to where they should be.
Though so many modern jobs require logging a serious amount of time in front of a computer, you still should be building in time to move your body throughout the day. If you're sitting for eight or more hours per day, you've probably experienced some kind of lower back discomfort, neck and shoulder stiffness, or even tight hips. These issues may seem to start small, but can seriously compound over time.
Keep in mind that incorporating movement into your daily routine doesn't mean quitting your day job or hitting the gym hard. In fact, it can be as simple as taking a walk during your lunch break or doing basic yoga at your desk throughout the day. For starters, give these simple yoga moves a try. And if you need more convincing, there are plenty of studies suggesting exercise helps keep your brain sharp, so you may find yourself more focused, better equipped to learn new things and better at managing stress when exercise is part of your workday.
Friends Make Everything Better: Including Working Out
OK, time for a little honest self-reflection: who out there has ever started a healthy change or workout routine only to abandon it later on? Who has ever made a health-related New Year's resolution that somewhere along the way faded into non-existence? If you're raising your hand, know that you're not alone.
Real, meaningful change is tough. That doesn't mean that it isn't possible, though! One way to help you stick to a healthy workout routine is by finding a friend to hold you accountable. Research has shown that people with a supportive exercise partner, actually exercise more. When you commit to meeting someone for workouts routinely, you're less likely to skip your gym time or hit that snooze button and roll back asleep. Plus, working out with a friend is way more fun and an added social outlet, which can pay big mental health dividends.
You Are What You Eat
Instead of opting for a fad diet, a good first approach to healthy eating is to eat more real food. This means cutting back on fast foods, processed foods– and watch your sugar intake! The goal is to be more intentional about the foods you choose to fuel your body– try to work in more vegetables and fresh fruits.  When you fill up on the good stuff, you'll leave less room for the junk food that can make you feel lethargic anyhow.
Of course, it's perfectly OK to indulge from time-to-time, but make it just that: an indulgence, not the norm.
The Role Of Chiropractic In A Healthy Lifestyle
Regular chiropractic treatment is another great conservative and preventative care option for overall health. The gentle adjustments that your practitioner can apply during an appointment help to realign the spine and extremities for better overall function. These adjustments not only help your whole body feel better, but they can also fend off inflammation and even help support your immune system.
By scheduling regular chiropractic care, you can help to keep your body and your immune system in tip-top shape. During the initial evaluation, we will go over your health history in detail and construct a plan that you are completely comfortable with before moving forward. Don't neglect your health; schedule an appointment online or call (949) 751-4000.
This article is for informational purposes only and is not a substitute for in-person advice or care from a medical professional.