Top Chiropractor Serving San Juan Capistrano Since 2001
Welcome to Swift Health Chiropractic
You might be surprised to know that chiropractic care isn't just about helping traditional neck and back problems. San Juan Capistrano chiropractor, Dr. Tim Swift has a history of success in treating
allergies, headaches, depression, ear infections, infertility, anxiety, neck and low back pain, and bulging and ruptured discs
, among other symptoms.
Your Health is Our Priority, So We've Made Your Treatments Affordable
Our current new patient special offer includes everything you need to get you on the path to a pain-free life. Dr. Tim will provide you with a free consultation, examination, x-rays and customized care plan based on his findings.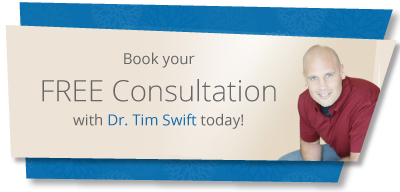 Take Advantage of Our $37 New Patient Special
Is chiropractic care right for you? Take the first step in taking care of your health.
Simply call (949) 751-4000 or book an appointment online today!

Patient Testimonials
Dr. Swift is an angel from God. God gave him the gift to heal people. I'm so lucky to have found him!

I was suffering with a long term lower back pain that was diagnosed and a plan put in place to alleviate my pain. Mission accomplished!

My pain was effectively and accurately diagnosed and treated. It was a positive experience all around.

After Years of daily pain, I'm feeling 80% better after less than a month. Friendly, efficient staff. Awesome results. A great investment.

I had a lot of nerve pain in my right leg, which was seriously disrupting my sleep. Dr. Swift took X-rays, we analyzed it & he gave me his recommendation.

Dr. Swift has helped me considerably. My legs no longer ache all the time after doing so for 25 years. I am able to walk without pain afterwards. His staff is very accommodating and an asset to his practice.

Dr. Tim is very personable and professional and makes you feel like he really cares about your well-being. Thank you!

I felt very welcomed and comfortable in the office on my very first visit. Dr. Swift has a great way of explaining what my issues are and the steps necessary to fix the problem.

I have had several visits now and am feeling better overall. I have fewer headaches, and scalp tenderness. I walk more upright with less midback tightness and pain. Chiropractic works, and is a very good tool for your body!

After living in severe pain for 8 months following major spinal surgery, I decided to give it a try. After one adjustment, the pain significantly decreased! I am looking so forward to progressing through my treatment plan and the results it will bring.

You are doing a great job. Keep it up!

I feel confident I'm receiving top of the line, professional, and customized care for my injury

Woke up this morning feeling virtually no pain or stiffness after 2 adjustments!

At Dr. Swift's clinic I really feel cared for. The care is top rate!

I am a spinal cord injury survivor and the care that DR. SWIFT has provided has been essential in my recovery and am now feeling much less low back pain and getting my circulation back in my legs.

The doctor really listened and was attentive to my concerns and needs. The staff was nice and caring.

Local Chiropractor For San Juan Capistrano, San Clemente & Dana Point